Zen Medic
Advanced management software for hospitals, clinics, and doctors' offices
---

ZenMedic (Hospital Management Information System) is a complete hospital/medical centre automation solution covering all the processes that medical facilities have, including Patient Admissions & Discharges, Operation Theatre Management, Pharmacy Sales & Stock Management, Laboratory & Testing Management, Doctors/Staff Management, Patient Accounts Management, and Comprehensive Reporting. These options generate categorized income reports such as admissions, operations/procedures, pharmacy sales, laboratory income reports, and high-level executive revenue reports on a daily, monthly, and yearly basis.
It includes different modules such as a Patient Admission Module, Operation Theatre Management Module, Pharmacy Module, Laboratory Module, Reports Module, Settings & Configuration Module, Users Management Module, and Database Backup & Restore Module. All these modules are very well-documented and also come along with the development guide.
It has almost all the reports that can be needed for efficient hospital management. The system also has options to create different groups that have their own responsibilities to manage.
Benefits of ZenMedic Hospital Management System:
Easy access to doctors' data to generate varied records, including classification based on demographics, gender, age, and so on. It is especially beneficial at ambulatory (outpatient) points, thereby enhancing continuity of care. Internet-based access also improves the ability to remotely access such data.
It helps as a decision support system for the hospital authorities for developing comprehensive health care policies.
Efficient and accurate administration of finance, patient diet, engineering, and distribution of medical aid. It helps to view a broad picture of hospital growth.
Improved monitoring of drug usage and study of effectiveness. This leads to the reduction of adverse drug interactions while promoting more appropriate pharmaceutical utilization.
Enhanced information integrity, reduced transcription errors, and reduced duplication of information entries.
Hospital software is easy to use and eliminates error caused by handwriting. New technology computer systems give perfect performance to pull up information from a server or cloud servers.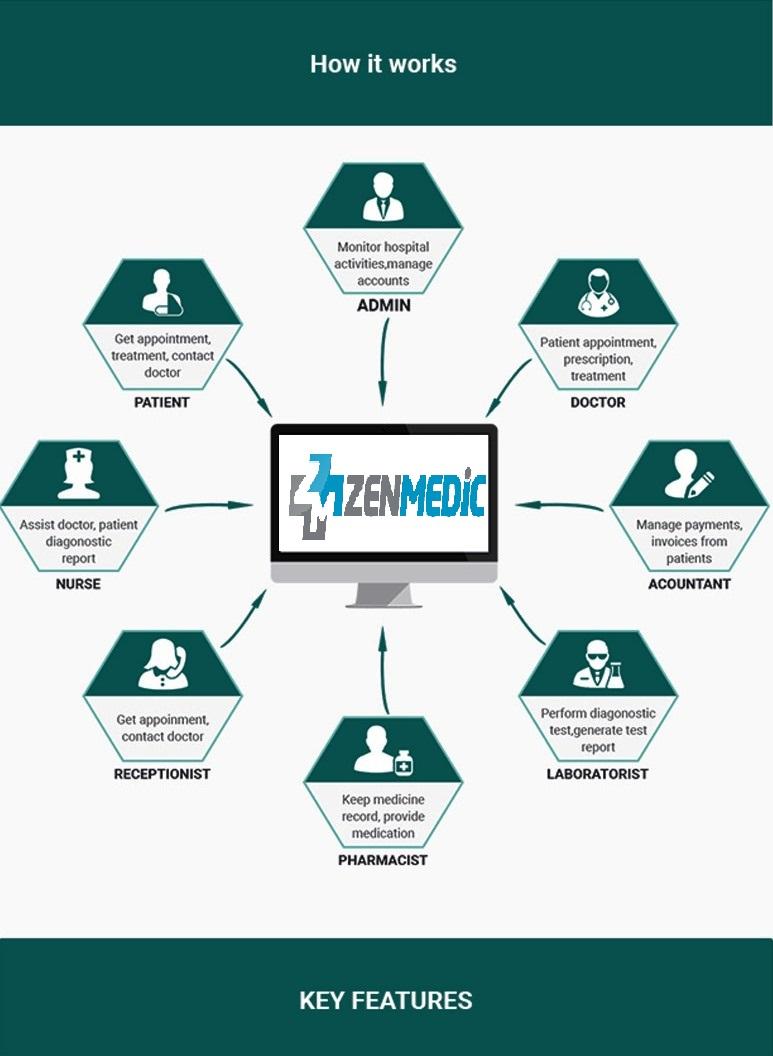 Some Key Features:
Fully Responsive Design - The hospital management system theme is designed based on all platforms and all types of devices.
Online Appointment System - The exclusive Online Appointment System allows users to make an appointment from anywhere in the interface.
User Level-wise Report - You can add, edit and delete a category and place it anywhere in a theme. It also has a Category page where users can choose from different categories.
Easy to Customize - The hospital management system has an easy customization system.
Doctors' Time-Off Management - One of the most wonderful features of the hospital management system.
Scheduling Management - The scheduling system is very efficient in monitoring doctors' schedules. This will save time for patients, doctors, and the hospital.
Patients Management - Patient management is an important part of this system. You can easily manage all patient problems from one centralised system.
Bootstrap-Based Design - The system is based fully on a bootstrap design.
Modern Website Integration - The system has a modern website integration that eliminates the need to build a new website.
All Browser Support - Zen Medic has been tested on all browsers.
Some Admin Panel Features
Add Department - The admin can easily add new departments in the system.
Add Doctor - New doctors can be easily added to the system.
Add Representative - Representatives are an important part of the hospital team. New members can also be easily added in this section.
Add Patient - Not only does this section allow you to add patients, but it also manages all their documents.
Add Schedule - The scheduling system allows for adding schedules and new doctors.
Add Appointment - Basically, adding appointments will require help from the front end team, but admin can also easily add appointments from this section.
Account Manager - Manage all accounting and financial matters from this section.
Add Account - This section can add new accounts via the account manager section and add financial accounts as well.
Add Invoice - Add invoice for existing transactions, create new invoice, and manage all invoices from this section.
Add Payment - If you want to pay a doctor or an employee, simply create payments from this section.
Debit Report - All debit reports can be viewed and managed from this section.
Credit Report - This shares the same functionalities as the Debit Report, but for credit reports.
Language Setting - Set language preferences easily.
Setting - Change all system, application, and website settings from this section.
Appointment Report - Admins can see and manage all appointment reports in this section.
Website - The hospital management system is developed with a website system. Everyone can easily add websites with the hospital appointment system.
SMS Notifications - Information-sharing made easy with SMS notifications on doctors' availability, schedule changes for patients, referral arrival information to referring doctors, and admission arrival information to RMO and PRO.
Download ZEN Medic
Hospital Management System